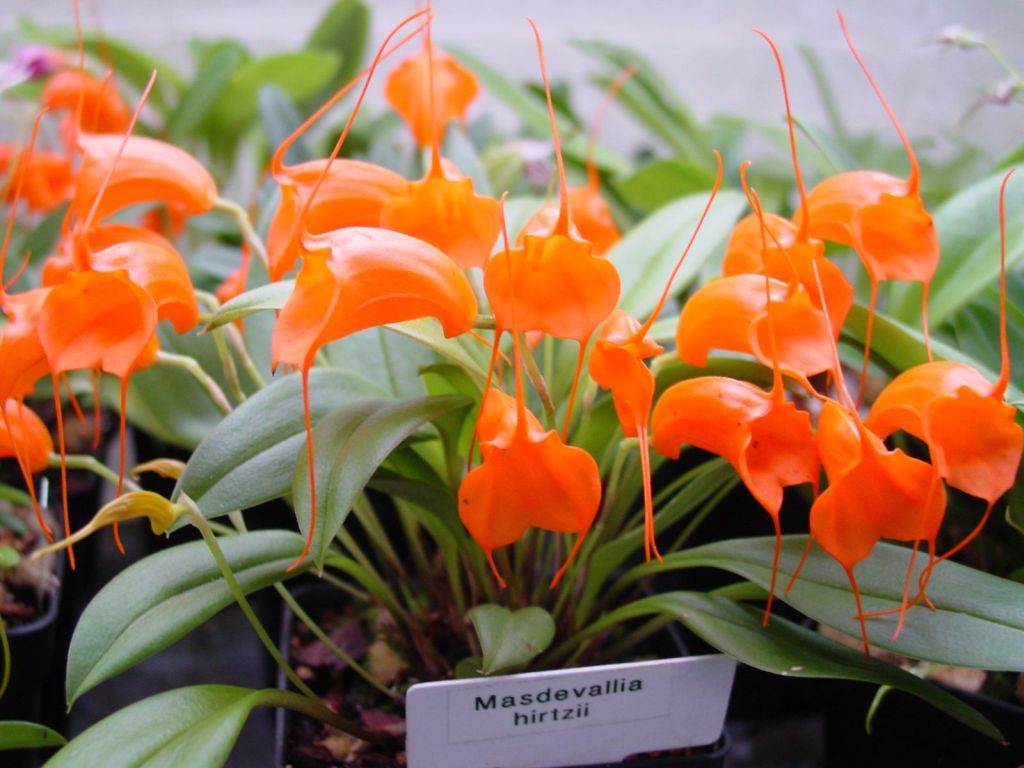 Masdevallia hirtzii Luer & Andreetta 1989 SUBGENUS Masdevallia SECTION Masdevallia SUBSECTION Saltatrices [Rchb.f] Luer 1986 Photo by © Ellis Eyre
Flower head On Photo courtesy of Andy's Orchids Copyright © 2002 All rights reserved.
Side View Of Flower Photo by Eric Hunt, plant grown by Gerardus Staal
Specimen plant Photo by Lourens Grobler


to

LATE

and

Common Name Hirtz's Masdevallia [German Engineer, Orchid Enthusiast and Orchid Collector in Ecuador current]
Flower Size 2 1/2" [6 cm]
Found in Ecuador and Peru in cloud forests at 1200 to 1550 meters as a mini-miniature sized, cool to warm growing epiphyte with blackish, erect, slender ramicauls enveloped basally by 2 to 3 loose tubular sheaths carrying a single, apical, erect, coriaceous, elliptical, satiny green above and silvery green below, subacute leaf that is cuneate below into the blackish petiole which blooms on a basal, slender, erect, 1 1/2 to 2 1/4" [4 to 6 cm] long inflorescence arising from low on the ramicaul with a bract near the base and a tubuar floral bract with a solitary flower held just above leaf height. Several inflorescence can arise from the base of each leaf and occurs in late winter and spring. Put in a pot with water holding medium or on tree fern with sphagnum around the roots and give warm to cold temperatures with constant humidity, moisture and moderate shade.
References W3 Tropicos, Kew Monocot list , IPNI ; Orchids Travel By Air A Pictoral Safari Mulder, Mulder-Roelfsema and Schuiteman 1990 photo fide; AOS Bulletin Vol 61 No 7 1992 photo fide; Icones Pleurothallidinarum XXIII Systematics of Masdevallia Part 4 Luer 2002 dawing fide; Native Ecuadorian Orchids Vol 3 Dodson 2002 photo fide; Orchid Digest Vol 72 No 4 2008 photo fide; Orchid Species of Peru Zelenko Bermudez 2009 photo fide; Orchidaceae Masdevallia and Affiliates Dodson & Luer 2009 drawing fide;
--------------------------------------------------------------------------------------------------------------------------