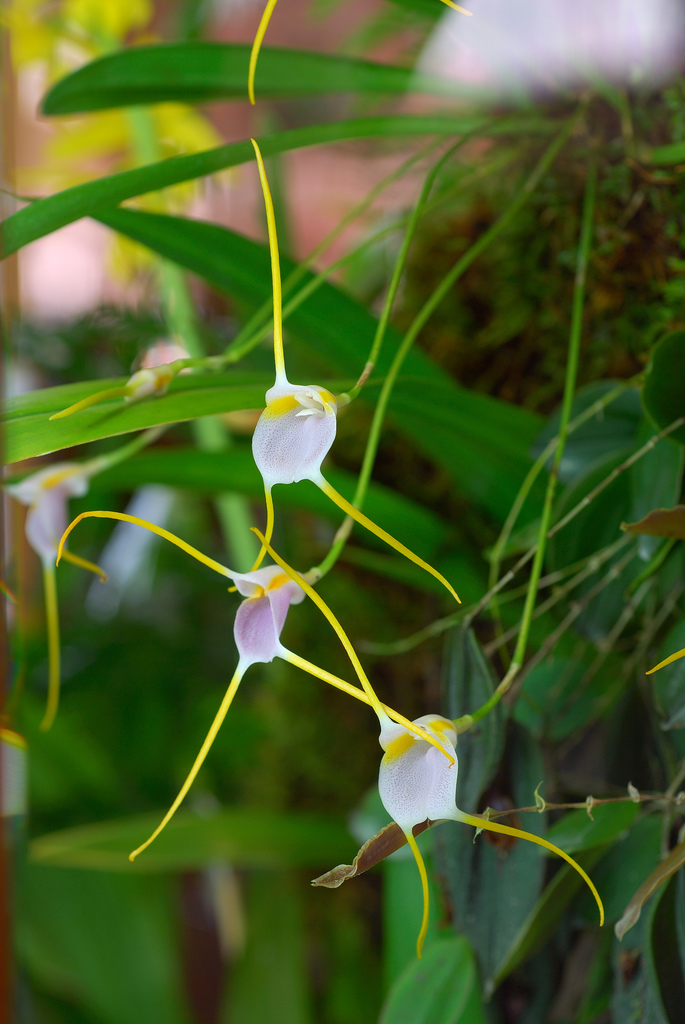 Masdevallia mejiana Garay 1970 SUBGENUS Masdevallia SECTION Reichenbachianae Woolw. 1896 Photo by © Eric Hunt and His Orchid Website
Another Flower Photo by Jay Pfahl.
Flower Detail Photo by © Lourens Grobler
Plant and flowers Photo courtesy of Dale Borders.




Common Name Mejia's Masdevallia [Colombian Orchid Grower and Discoverer of species]
Flower Size 1 1/4" [3 cm]
This species is a mini-miniature sized, warm growing, tufted, epiphyte with generally erect leaves that is found in Colombia on the western slopes of the central cordillera at elevations of 500 to 800 meters with slender, erect, ramicauls enveloped basally by 2 to 3 tubular sheaths carrying a single, apical, suberect, fleshy-coriaceous, oblong-lanceolate, obtuse leaf that gradually narrows into the petiole that blooms in the winter with 1 or 2 flowers per ascending, 4" [10 cm] long, terete inflorescence arising from low on the ramicaul with a bract above the base and a floral bract holding the campanulate, fragrant spicy scented flowers at or at mid-leaf height.
Synonyms Reichantha mejiana (Garay) Luer 2006
References W3 Tropicos, Kew Monocot list , IPNI ; AOS Bulletin Vol 51 #3 1982 photo fideSystematics of Masdevallia Vol 2 Luer 1986; The Manual Of Cultivated Orchid Species Bechtel, Cribb & Launert 1992 photo fide; AOS Bulletin Vol 65 No 7 1996 photo; Native Colombian Orchids Vol 6 COS 1998 photo fide; Icones Pleurothallidinarum XXI Systematics of Masdevallia Part 2 Luer 2000 drawing fide; Icones Pleurothallidinarum Vol XXVIII Luer 2006 as Reichantha mejiana ; Libro Rojo de Plantas De Colombia Vol 6 Primera Parte Saenz 2007 photo fide; Orchid Digest Vol 72 No 4 2008 photo fide; Orchid Digest Vol 80 #2 2016;
--------------------------------------------------------------------------------------------------------------------------