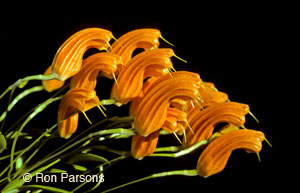 Masdevallia maxilimax ( Luer ) Luer 1989 SUBGENUS Masdevallia SECTION Masdevallia SUBSECTION Caudatae Veitch 1889 Photo by Ron Parsons and his Flower Shots Website.
Flower and plant Photo by Patricia Harding.




Common Name The Large Limax Masdevallia [The Large Masdevallia limax]
Flower Size 3/8" [1 cm]
Found in southern Ecuador at elevations of 1800 to 2000 meters as a mini-miniature sized, cool growing epiphyte with blackish, erect, slender ramicauls enveloped basally by 2 to 3 loose, tubular sheaths carrying a single, apical, erect, coriaceous, elliptical, acute leaf that is narrowly cuneate below into the blackish petiole and blooms in the summer and fall on a slender, erect, 1 1/5" to 2 2/5" [3 to 6 cm] long, single flowered inflorescence arising from low on the ramicaul with a bract near the base and a tubular floral bract.
Very close to M mendozae but differs mostly in the fialmentous downward pointing tails, M mendoza has thicker tails all round and the dorsal sepals tail ascends, and a ventrally constriced area on M maxilimax and a tubular non-constricted ventral area on M mendozae.
Synonyms Masdevallia limax Luer subsp. maxilimax Luer 1988
References W3 Tropicos, Kew Monocot list , IPNI ; Icones Pleurothallidinarum XXIII Systematics of Masdevallia Part 4 Luer 2002 drawing fide; Native Ecuadorian Orchids Vol 3 Dodson 2002 photo fide; Orchidaceae Masdevallia and Affiliates Dodson & Luer 2009 drawing fide; AOS Bulletin Vol 85 #2 2016 photo fide;
--------------------------------------------------------------------------------------------------------------------------