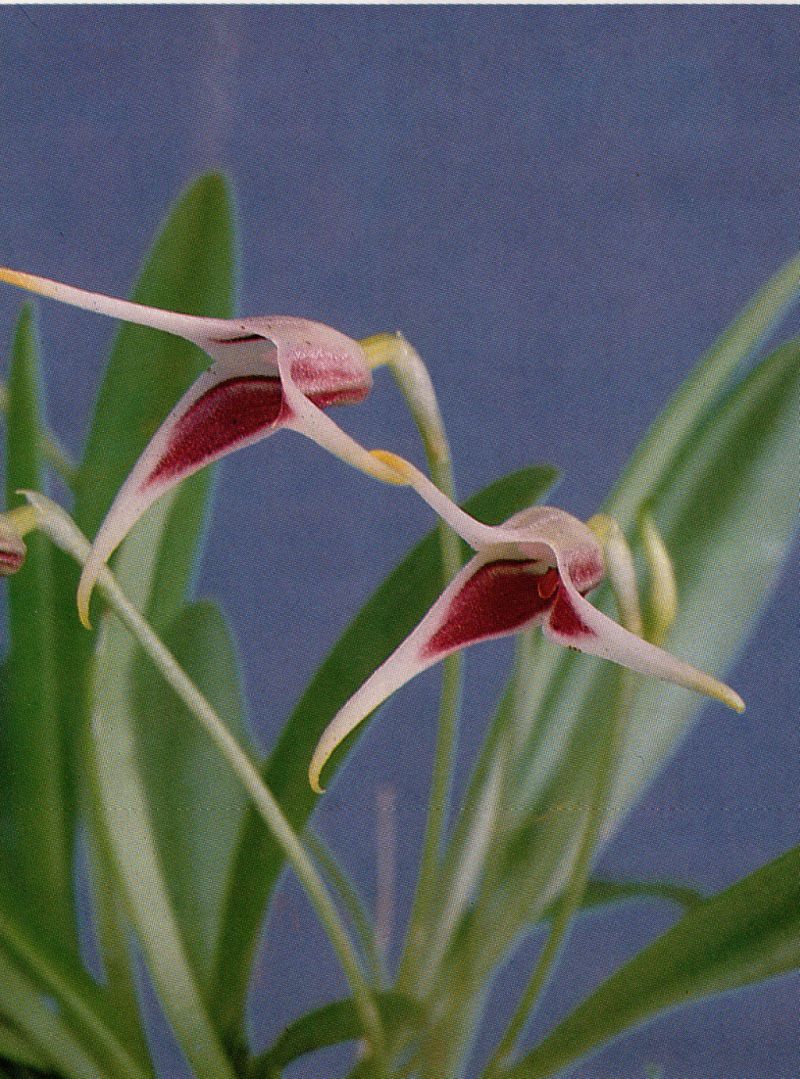 Masdevallia wendlandiana Rchb. f. 1887 SUBGENUS Masdevallia SECTION Masdevallia SUBSECTION Minutae Rchb.f ex Woodw. 1896 Photo by Jorge Mario Munera
Another Flower Color form Photo by Orquivalle and their Colombian Orchid Website
Another Flower, maybe more correct? Photo by J&L Orchids and their Website
Flower Closeup? not Photos by Jay Pfahl




Common Name Wendland's Masdevallia [German Orchid Collector in Mexico 1800's]
Flower Size 1/2" [1.3cm]
Found from Venezuela, Colombia, Ecuador, Peru, Bolivia and Brazil as a mini-miniature sized, hot to warm growing, caespitose epiphyte high in the canopy of wet tropical and montane forests at elevations of 130 to 850 meters with a minute ramicaul obscured by several tubular, gray green bracts with an apical, oblanceolate, minutely bilobed leaf that blooms in the spring on an erect, 3" [7cm] long, single flowered inflorescence arising from low on the ramicaul that is held just above the leaves.
Distinguished by the long tube, formed by the connate, triangular sepals and the obscurely 3-lobed, papilllose labellum.
The first photo is correct to Colombian Orchids Vol 2 COS 1991 and Icones Orchidacearum Peruviarum Plate 091 Bennett & Christenson 1993, all the others are most likely not M wendlandiana or are part of a very variable shaped and colored species.
Synonyms Acinopetala wendlandiana (Rchb. f.) Luer 2006; Masdevallia rodrigueziana Mansf. 1928; Masdevallia ulei Schltr. 1914; Masdevallia yauaperyensis Barb.Rodr. 1891
References W3 Tropicos, Kew Monocot list , IPNI ; Venezuelan Orchids Vol 4 Dunsterville & Garay 1966 drawing ok; AOS Bulletin Vol 36 #9 1967; Flora de Venezuela Foldats Volumen XV Part 3 1970 drawing ok; Die Orchideen 3 Auflage Bd 1 Sonderabdruck aus Schlechter Lieferung 7 385 - 448 Brieger, Maatsch and Senghas 1975 as M yauaperyensis; Orchidaceae Brasilense Band 1 Pabst & Dungs 1975 as M yauyauperyensis drawing fide; Orchidaceae Brasilense Band 1 Pabst & Dungs 1975 drawing fide; Orchids of Venezuela An Illustrated Field Guide Vol 2 Dunsterville & Garay 1979 drawing ok; Systematics of Masdevallia Vol 2 Luer 1986; Native Colombian Orchids Vol 2 COS 1991 photo fide; Icones Orchidacearum Peruviarum Plate 091 Bennett & Christenson 1993 drawing fide; Orchids of Venezuela [An illustrated field guide] Vol. 2 Ramiro and Carnevali 2000 drawing ok; Icones Pleurothallidinarum XXII Systematics of Masdevallia Part 3 Luer 2001 drawing ok 1st photo only; Orchid Digest Vol 66 #2 2002 drawings/photo fide; Native Ecuadorian Orchids Vol 3 Dodson 2002 photo fide; Flora of the Venezuelan Guayana Vol 7 Steyermark, Berry, Yatskievych and Holst 2003 drawing ok; Orquideologia Vol 24 #2 2006 photo fide; Icones Pleurothallidinarum Vol XXVIII Luer 2006 as Acinopetala wendlandiana; Libro Rojo de Plantas De Colombia Vol 6 Primera Parte Saenz 2007; Orchidaceae Masdevallia and Affiliates Dodson & Luer 2009 as Acinopetala wendlandiana drawing/photo fide; Orchid Digest Vol 74 #1 2010 photo fide; Orquideologia Vol 28 #2 2011 photo fide; Orquideas de Roirama Luz & Franco 2012 photo fide; Of Men and Orchids Part 1 Jenny 2015 photo fide;
--------------------------------------------------------------------------------------------------------------------------
----------------------------------------------------------------------------------------------------------------