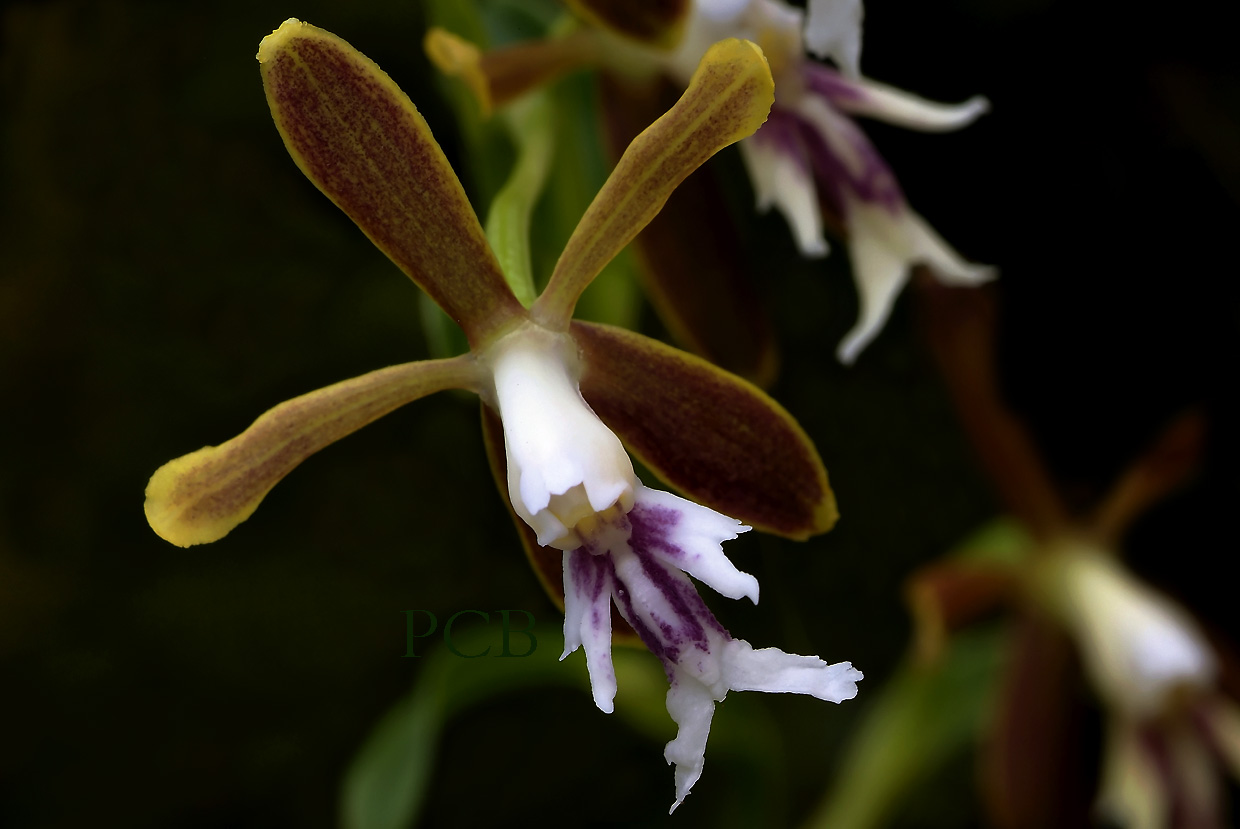 Epidendrum exasperatum Rchb. f. 1866 GROUP Oerstedella SUBGROUP Verrucosum Photo by © Pieter C. Brouwer and his Nature Photo Website
Another Flower Photo courtesy of Andy's Orchids Copyright © 2002 All rights reserved.



to


and EARLY

Common Name The Smooth Epidendrum
Flower Size 1" [2.5 cm]
Found in Costa Rica and western Panama as a large sized, warm to col growing epiphyte or lithophyte in lower and upper montane rain forests at elevations of 850 to 2500 meters with narrow, warty, branching, 3 ft. [90 cm] long canes which can produce plantlets, covered with thin oval 2" [5 cm] long, basally clasping, bilobed apically leaves, apical and lateral spikes produce, large, dense heads [3 to 9] of 1" [2.5 cm], fragrant blooms that are longlasting occuring in the winter and early spring.
Synonyms Epidendrum chondranthum Kranzlin 1929; Oerstedella exasperata (Rchb. f.) Hágsater 1981
References W3 Tropicos, Kew Monocot list , IPNI ; Lankester's Epidendra Website CR ; Beitr. Orchid.-K. C. Amer. 87. 1866 ; Repert. Sp. Nov. Regni. Veg. Beih. 19: 37. Costa Rica Schlechter 1923; Repert. Sp. Nov. Regni. Veg. Beih. 19: 119. Costa Rica Schlechter 1923; Repert. Sp. Nov. Regni. Veg. Beih. 19: 212. Costa Rica Schlechter 1923; The Genus Epidendrum Ames 1936; The Orchids of Panama L.O. Williams & P Allen 1946; Ceiba Vol 5 No 1 L O Williams 1956; Orquideologia Vol 12 No 1 1977; Die Orchideen 3 Auflage Bd 1 Sonderabdruck aus Schlechter Lieferung 9 513 - 576 Brieger, Maatsch and Senghas 1977; Orchids Travel By Air A Pictoral Safari Mulder, Mulder-Roelfsema and Schuiteman 1990 as Oerstedella exasperata photo fide; Icones Planetarum Tropicarum plate 1460 Atwood 1992 as Oerstedella exasperata drawing fide; AOS Bulletin Vol 63 No 1 1994 photo; Manual de Plantas de Costa Rica Vol 3 Hammel, Grayum, Herrera and Zamora 2003 as Oerstedella exasperata; Icones Orchidacearum 8 Plate 811 Hagsater 2006; Icones Orchidacearum 8 Plate 831 Hagsater & Sanchez 2006 drawing fide; Icones Orchidacearum 8 Plate 868 Hagsater 2006 see recognition section; Icones Orchidacearum 8 Plate 869 Hagsater 2006 see recognition section; Icones Orchidacearum 9 Plate 931 Hagsater 2007 see recognition section ; Icones Orchidacearum 9 Plate 993 Hagsater 2007 see recognition section; Icones Orchidacearum 11 Plate 1145 Hagsater 2008 see recognition section; Orchids of Costa Rica Vol 1 Morales 2009 photo fide;
--------------------------------------------------------------------------------------------------------------------------