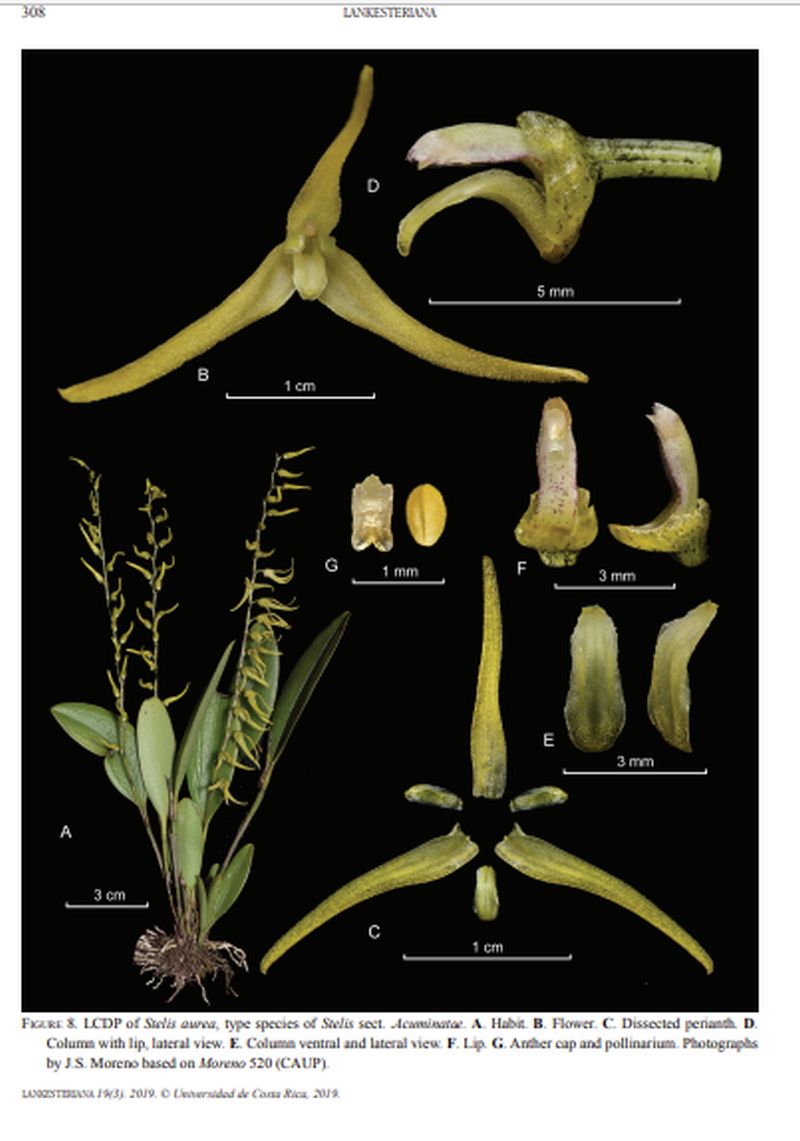 Pleurothallis acuminata (Kunth) Lindl. 1842 SUBGENUS Specklinia SECTION Acuminatae Luer 1986="orphotdir/pleuroacuminata.jpg">Another Flower?
Leaf and Inflorescence Photos by © Walter M Shim
Another Flower? Photo by © Eric Hunt




Common Name The Gradually Tapering Point Pleurothallis
Flower Size .8" [2 cm]
Found in Colombia, Venezuela, Ecuador, Peru and Bolivia at elevations of [500] 2000 to 3200 meters as a miniature to small sized, cool to cold growing epiphyte with clustered, erect to ascending ramicauls enveloped basally by 2 to 5 tubular sheaths and carrying a single, apical, erect, coriaceous, oblong, oblong-elliptic to oblong-oblanceolate, rounded to acute to apiculate, cuneate below into the short, petiolate base leaf that blooms on 1 to 2, erect to suberect, subdensely many flowered, 2.8 to 9.2" [7 to 23 cm] long, racemose inflorescence arising through a spathe.
Synonyms Anathallis acuminata (Kunth) Pridgeon & M.W. Chase 2001; Anathallis brittonii (Rolfe) Pridgeon & M.W. Chase 2001; Anathallis racemosa Barb. Rodr. 1877; *Dendrobium acuminatum Kunth 1816; Humboldtia acuminata (Kunth) Kuntze 1891; Humboldtia aurea (Lindl.) Kuntze 1891; Humboltia acuminata (Kunth) Kuntze 1891; Humboltia aurea (Lindl.) Kuntze 1891; Pleurothallis angustipetala C.Schweinf. 1953; Pleurothallis aurea Lindl. 1843; Pleurothallis brittonii Rolfe 1907; Pleurothallis nigro-hirsuta Kraenzl. 1905; Pleurothallis ochroleuca Schltr. 1920; Pleurothallis racemosa (Barb. Rodr.) Cogn. 1896; Pleurothallis tenuifolia C.Schweinf. 1951; Specklinia acuminata (Kunth) Lindl. 1835; Stelis aurea (Lindl.) Karremans 2014
References Bonplandia Rchb.f 1854; Orchids of Peru Vol 2 Schweinfurth 1959; Orchids of Peru Vol 2 Schweinfurth 1959 as P angustipetala drawing fide; Venezuelan Orchids Vol 4 Dunsterville & Garay 1966 drawing fide; Flora de Venezuela Foldats Volumen XV Part 2 1970 drawing fide; Fieldiana Biology, Vol 33, 1st Supple. to the Orchids of Peru Schweinfurth 1970; Orchids of Venezuela, An Illustrated Field Guide Vol 3 Dunsterville & Garay 1979 drawing fide; Systematics of Pleurothallis Vol 3 Luer 1986; Systematics of Pleurothallis Vol 3 Luer 1986 as Pleurothallis brittonii; Icones Plantarum Tropicarum Plate 285 Dodson & Vasquez 1989 as P tenuifolia drawing hmm; Venezuela, Paraiso de Orquideas Romero 1997 photo fide; Icones Pleurothallidinarum Vol XVIII Systematics of Pleurothallis subsection Antenniferae, Longiracemosae, Macrophyllae-racemosae and Subgenera Pseudsostelis and Acuminata Luer 1999 drawing fide; Orchids of Venezuela [An illustrated field guide] Vol. 3 Ramiro and Carnevali 2000 drawing fide; Orchids of Bolivia Vol 1 Pleurothallidinae Vasquez & Ibisch 2000 drawing good; Lindleyana Vol 16 No 4 2001 as Anathallis acuminata; Icones Orchidacearum Perviarum Plate 745 Bennett & Christenson 2001 as P tenuifolia var logisepala drawing good; Lindleyana Vol 16 No 4 2001 as Anathallis brittonii; Orquideas Nativas del Tachira Cesar Fernandez 2003 photo ok; Macchu Picchu Orchids Eric Christenson 2003; Icones Pleurothallidinarum Vol XXVI Luer 2004 as Specklinia acuminata; AOS Bulletin Vol 75 No 2 2006 as P angustipetala photo fide; Orchid Species of Peru Zelenko Bermudez 2009 photo fide as Anathallis acuminata; LANKESTERIANA 13(3): 319—332 Kerremans 2014 as Stelis aurea; Orquideas de Farallones de Cali Galindo-Tarazona, Haelterman, Zuluaga Trochez and Sebastian Moreno 2020 as Stelis aurea photo fide
----------------------------------------------------------------------------------------------------------
--------------------------------------------------------------------------------------------------------------------------