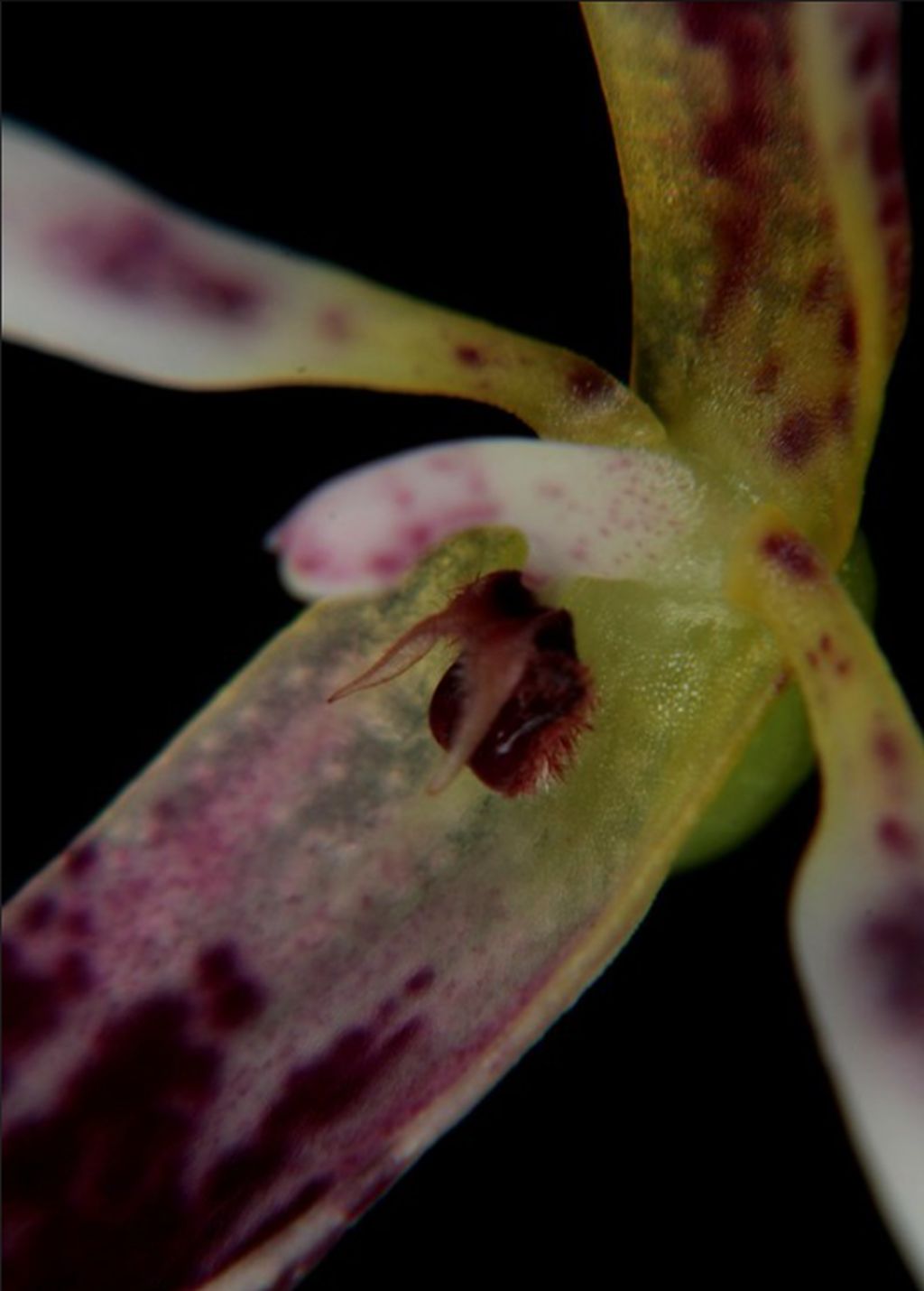 Pleurothallis arietina Ames 1923 SUBGENUS Ancipitia SECTION Ancipitia Luer 1986
Photo by © Wiel Driessen
Photo/Drawing by © Franco Pupulin


LATE

Common Name The Ram Like Pleurothallis [refers to the lip projections that appear to be horns]
Flower Size .4" [1 cm]
Found in Cartago province of Costa Rica and Panama at elevations of 1750 to 1800 meters as a cool growing epiphyte and is distinguished from P crocodiliceps by the horn-like projections on the lip, P crocodiliceps has no projections and the lip should look somewhat like a crocodile head.
CAUTION Wiel's photo above is not an exact ringer for this species, the major difference between it and the type is the length of the lip projections. The type drawing shows much shorter projections. As always the type drawing is always correct.
Part of the P crocodiliceps group which consists of P andreae, P microchila, P nelsonii, P manningiana, P weilii and P kelsoae
Often and erroneously cited as a synonym of P crocodiliceps along with P nelsonii and P microchila, see Lankesteriana Wilson 2017 for the explanation of why they are separate.
Synonyms
References W3 Tropicos, Kew Monocot list , IPNI ; Lankester's Epidendra Website CR; *Schedul. Orchid. 4: 16. 1923 drawing fide; The Orchids of Panama L.O. Williams & P Allen 1946 as P arietina drawing fide; Flora de Venezuela Foldats Volumen XV Part 2 1970 as P crocodiliceps; Orchids of Venezuela, An Illustrated Field Guide Vol 3 Dunsterville & Garay 1979 as P crocodiliceps drawing fide; Icones Pleurothallidinarum Systematics of Pleurothallis Vol 3 Luer 1986; Icones Pleurothallidinarum Systematics of Pleurothallis subgen Ancipita, Scopula and Trisetella Vol 6 Luer 1989 as P crocodiliceps not drawing fide; Orchids Travel By Air A Pictoral Safari Mulder, Mulder-Roelfsema and Schuiteman 1990 photo fide; Orchids of Venezuela [An illustrated field guide] Vol. 3 Ramiro and Carnevali 2000 as P crocodiliceps drawing fide LANKESTERIANA 17(2) Wilson etal 2017 drawing/photo fide; Vanishing Beauty, Native Costa Rican Orchids Vol 2 Lacaena to Pteroglossa Pupulin 2020 photo fide
----------------------------------------------------------------------------------------------------------