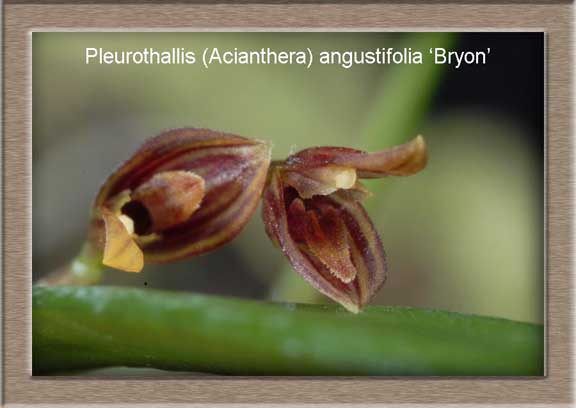 Pleurothallis angustifolia Lindl. 1836 SUBGENUS Acianthera SECTION Brachystachyae Lindley 1859
Photo by © Byron Rinke.
Photo courtesy of Noble Bashor.



LATER


Common Name The Thin Leafed Pleurothallis
Flower Size 1/5" [5 mm]
Found as a miniature sized, hot to warm growing epiphyte in Mexico, Guatemala, Belize, Honduras and Nicaragua in wet montane forests at elevations of 365 to 2000 meters, along streams as an epiphytic on dry mossy trees with a creeping rhizome with well spaced, ascending ramicauls carrying a single, apical, reddish, fleshy-coriaceous, lanceolate, acute and tridentate apically leaf that blooms in the later summer and fall on an apical, short to 1/2" [1.25 cm] long, pendulous, fasciculcate single to three flowered inflorescence that is held close to the leaf.
Good distinguishing factors for this species are small plant with creeping rhizome with well spaced ramicauls carrying a lanceolate leaf and has a bicallose lip indicated by the arrows in the second photo, with two lateral lobules at the base.
CAUTION !!!Similar to and often relatgated to being a synonym of P angustifolia, P wilsonii has a wider synsepal and a wider, apically rounded lip while P angustifolia has a narrower synsepal and a narrower lip with an obtuse apex.
Synonyms Acianthera angustifolia (Lindl.) Luer 2007; Humboldtia angustifolia (Lindl.) Kuntze 1891; Pleurothallis carioi Schltr. 1918;
References W3 Tropicos, Kew Monocot list , IPNI ; Orchids of Guatemala and Belize Ames & Correll 1952 as P carioi; Icones Planetarum Tropicarum plate 1087 Dodson 1984 as Pleurothallis carioi drawing fide; Icones Pleurothallidinarum Vol XXVI Luer 2004 drawing fide; Orchids of Mexico Hagsater, Soto, Salazar, Jimenez Lopez & Dressler 2005 as Acianthera angustifolia; Icones Pleurothallidinarum Vol XXIX Luer 2007 as Acianthera angustifolia; Orchid Flora of the Greater Antilles Ackerman 2014 as P angustifolia not = P wilsonii; Diversity of Pleurothallidinae in Guatemala: An Endangered Orchid Subtribe with High Economic and Horticultural Potentials Edgar Mo Mo, Cetzal, Basu and Vega 2017 as Acianthera angustifolia photo fide; Orchid Genera and Species in Guatemala Archila, Szlachchetko, Chiron, Lipinska, Mystkowska and Bertolini 2018 as Acianthera angustifolia; Pleurothallids Neotropical Jewels Vol 1 Karremans & Viera 2020 as Acianthera angustifolia photo fide;
--------------------------------------------------------------------------------------------------------------------------