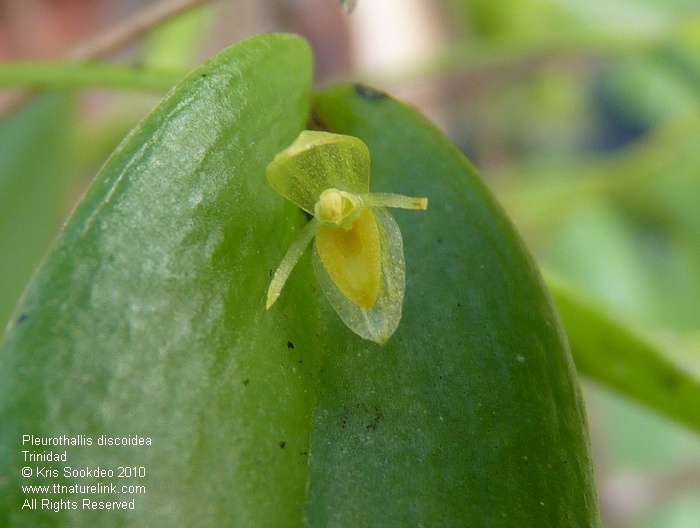 Pleurothallis discoidea Lindl. 1835 SUBGENUS Pleurothallis SECTION Macrophyllae-Fasciculatae Lindl 1859 Photo by © Kris Sookdeo and the Orchids of Trinidad Website
Another flower? Photo courtesy of Oliver Lenhard.







Common Name The Disc-Shaped Pleurothallis
Flower Size 1/6" [4mm]
Found in Trinidad, Venezuela, Surinam, French Guiana, Ecuador and Peru in wet montane forests at elevations of 600 to 2000 meters as a miniature sized, warm to cool growing epiphyte with slender, wiry ramicauls enveloped basally by 2 close, tubular, papery, evanescent sheaths all carrying a single, apical, oblong-lanceolate, attenuate, acuminate, tridentate leaf that becomes conduplicate towards the base and blooms at most any season of the yearon a sessile, sequentially single flowering inflorescence arising from a spathe .
Synonyms Acronia discoidea (Lindl.) Luer; 2005 Humboldtia discoidea [Lindl.] Kuntze 1891; Pleurothallis juninensis var. angustifolia C.Schweinf. 1951; Pleurothallis leptopetala Cogn. 1910; Pleurothallis mariae I.Bock 1985; Pleurothallis morrisii Fawc. & Rendle 1909; Pleurothallis scleropus Schltr. 1929; Pleurothallis sugdenii Luer, Orquideologia 20: 229 (1996
References W3 Tropicos, Kew Monocot list , IPNI ; Symbolae Antillanae Vol VI Orchidaceae Urban 1909; Symbolae Antillanae Vol VI Orchidaceae Urban 1909 as P morrissii; Symbolae Antillanae Vol VI Orchidaceae Urban 1909 P leptopetala; Flora of Jamaica Fawcett & Rendle 1910 as P morrisii drawing ok; AOS Bulletin Vol 28 No 8 1959 photo fide; Venezuelan Orchids Illustrated Vol 1 Dunsterville & Garay 1959 drawing fide; Native Orchids of Trinidad Schultes 1960; AOS Bulletin Vol 36 #9 1967; AOS Bulletin Vol 38 No 6 1969; Flora de Venezuela Foldats Volumen XV Part 2 1970 drawing fide; Orchids of Venezuela, An Illustrated Field Guide Vol 3 Dunsterville & Garay 1979 drawing fide; Icones Pleurothallidinarum Systematics of Pleurothallis Vol 3 Luer 1986; The Orchids of Surinam Werkhoven 1986 photo ok; Native Orchids of the Eastern Carribean Kenny 1988 photo fide; cones Orchidacearum Peruviarum Plate 350 Bennett & Christenson 1995 drawing fide; Orchids of Venezuela [An illustrated field guide] Vol. 3 Ramiro and Carnevali 2000 drawing fide; Orchids of Bolivia Vol 1 Pleurothallidinae Vasquez & Ibisch 2000 drawing fide; Orchids of Bolivia Vasquez & Ibisch Vol 1 2000 as P scleropus; Manual de Plantas de Costa Rica Vol 3 Hammel, Grayum, Herrera and Zamora 2003; Icones Pleurothallidinarum XXVII Systematics of Dryadella and Acronia Section Macrophyllae-Fasciculatae Luer 2005 drawing ok as Acronia discoidea; Orchid Flora of the Greater Antilles Ackerman 2014
--------------------------------------------------------------------------------------------------------------------------