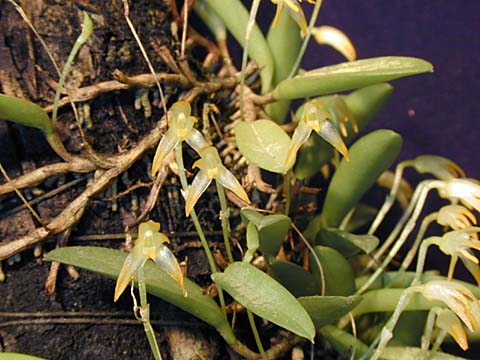 Pleurothallis sertularioides (Sw.) Spreng. 1826 SUBGENUS Specklinia SECTION Muscosae Lindl. 1842 Photo courtesy of Andy's Orchids Copyright © 2002 All rights reserved.







Common Name The Wreath-Like Pleurothallis
Flower Size 1/8" [.33 cm]
Found in Jamaica, Cuba, Mexico, Guatemala, Honduras and Nicaragua in wet montane forests as a mat forming, miniature sized, warm to cool growing epiphyte with a slender creeping rhizome and erect ramicauls enveloped basally by scarious sheaths and carrying a single, apical, linear-oblanceolate, to linear-spathulate, obtuse, gradually narrows below into the conduplicate base leaf that can bloom at any time of the year on a short, filiform, single to 2 flowered inflorescence that arises from the leaf base.
Synonyms Anathallis sertularioides (Sw.) Pridgeon & M.W.Chase 2001; Dendrobium sertularioides (Sw.) Sw. 1799; *Epidendrum sertularioides Sw. 1788; Humboldtia sertularioides (Sw.) Kuntze 1891; Humboldtia tenuissima (Rchb. f.) Kuntze 1891; Humboltia sertulariodes (Sw.) Kuntze 1891; Humboltia tenuissima (Rchb. f.) Kuntze 1891; Panmorphia sertularioides (Sw.) Luer 2006; Pleurothallis sertularioides var trinitensis Griseb. 1864; Pleurothallis tenuissima Rchb. f. 1844; Pleurothallis trichopoda A.Rich. & Galeotti 1845; Specklinia sertularioides (Sw.) Lindl. 1830
References W3 Tropicos, Kew Monocot list , IPNI ; Symbolae Antillanae Vol VI Orchidaceae Urban 1909; Flora of Jamaica Fawcett & Rendle 1910; Orchids of Guatemala and Belize Ames & Correll 1952; Encyclopedia of Cultivated Orchids Hawkes 1965; Icones Planetarum Tropicarum plate 1126 Dodson 1984 drawing ok; Systematics of Pleurothallis Vol 3 Luer 1986; Catologo Descriptivo de Las Orquideas Cubanas Acuna 1987; Lindleyana Vol 16 No 4 2001 as Anathallis sertularioides; Manual de Plantas de Costa Rica Vol 3 Hammel, Grayum, Herrera and Zamora 2003; The Orchids of Cuba Llamacho & Larramendi 2005 Orchidaceae Antillanae Nir 2000; Orchids of Jamaica Gloudin & Tobisch 1995 photo ok; Orchids of Bolivia Vasquez & Ibisch Vol 1 2000 drawing good; Orchidaceae Antillanae Nir 2000; Systematics and evolution of the genus Pleurothallis R. Br. (Orchidaceae) in the Greater Antilles Hagen Stenzel 2004 drawing fide; Orchids of Cuba Llamacho & Larramendi 2005 as Specklinia sertulariodes photo good; Orchids of Mexico Hagsater, Soto, Salazar, Jimenez Lopez & Dressler 2005 as Anathallis sertularoides; Icones Pleurothallidinarum Vol XXVIII Luer 2006 as Panmorphia sertularioides drawing good; Mille et Une Mini Orchideees Roguenant 2009 as Anathallis sertularioides photo ok; Orchid Flora of the Greater Antilles Ackerman 2014
--------------------------------------------------------------------------------------------------------------------------