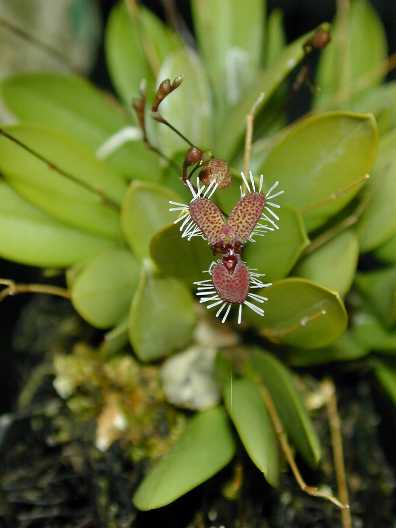 Pleurothallis ornata Rchb.f. 1882 SUBGENUS Effusae Luer 2000
Photo by Scott McGregor
Photo by Weyman Bussey
Drawing by Carl Luer





MID

Common Name The Ornate Pleurothallis
Flower Size 1/2" [1.25 cm]
Found in Mexico, Guatemala and El Salvador as a mini-miniature sized, cool to cold growing, caespitose epiphyte at elevations of 1500 to 2500 meters with erect ramicauls enveloped by 2 basal sheaths and carrying a single apical, erect, coriaceous leaf that blooms in the winter through mid summer on an apical, erect, fractiflex, 1.6 to 2" [4 to 5 cm] long, successively single, few flowered inflorescence with about half as long as the pedicel floral bracts that holds the amid or just above the leaves.
Cool temperatures, shade, and high humidity as well as mounting on tree fern, and good air movement assure a happy plant.
For years this species has been confused with P schiedei and P villosa which are synomonous, with P villosa taking precedence, as they do not have lamellae, only long pubescence within the flower so neither can be P ornata. Knowles & Westcott described P villosa as a plant 4" [10 cm] high, a flexuous scape and at each bend bearing a wooly and purple spotted flower. No mention of appendages or lamellae which most modern references show as P schiedei but are actually P ornata. Rchb.f in his description of P schiedei states that it is a wooly flower which would eliminate it as a candidate for what we now know as P ornata as well. Rchb.f described P ornata as having short ramicauls and the flower with conspicuous, unique, clavate appendages on the sepal margins.
Synonyms Effusiella ornata Luer 2007; Specklinia ornata (Rchb. f.) Luer 2004; Stelis ornata (Rchb. f.) Pridgeon & M.W. Chase 2001
References W3 Tropicos, Kew Monocot list , IPNI ; Die Orchideen Schlechter 1915; Die Orchideen #7 25-28 tafel 8 Rudolph Schlechter 1971 photo not = P truncata; Las Orquedias De El Salvador Vol 2 Hamer 1974 as P scheidei drawing/photo fide; Miniature Orchids Northen 1980 as P shiedei photo fide; Flora Novo-Galaciana Vol 16 Orchidaceae Mc Vaugh 1985 as P schiedei not =P ornata; An Introdution to the Orchids of Mexico Wiard 1987 as P scheidei not = P ornata photo fide; AOS Bulletin Vol 57 #2 1988 as P schiedei photo fide; AOS Bulletin Vol 62 # 1 1993 as P scheidei photo fide; AOS Bulletin Vol 64 #12 1995 as P scheidei photo fide; Guatemala Y Sus Orquideas Behar & Tinschert 1998 as P scheideiphoto fide; Icones Pleurothallidinarum Vol XX Systematics of Jostia, Andinia, Barbosella, Barbrodia & Pleurothallis subgen Antilla, Effusia and Restrepioidia Luer 2000 drawing fide; Lindleyana Vol 16 No 4 2001 as Stelis ornata; Icones Orchidacearum 5-6 Plate 689 Hagsater & Soto 2002 as Stelis ornata drawing fide; Icones Pleurothallidinarum Vol XXVI Pleurothallis subgenus Acianthera and Three Allied subgenera, A Second Century of new Species of Stelis of Ecuador, Epibator, Ophidion and Zootrophion Luer 2004 as Specklinia ornata; Orchids of Mexico Hagsater etal 2005 as Stelis ornata photo fide; Icones Pleurothallidinarum Vol XXIX A Third Century of Stelis of Ecuador Systematics of Apoda-Prorepentia Luer 2007 as Effusiella ornata; Mille et Une Mini Orchideees Roguenant 2009 as Stelis villosa photo fide; AOS Bulletin Vol 80 #6 2011 as Stelis villosa photo fide; Guia de Orquideas de Chiapas Carlos Rommel Beutelspacher Baigts 2013 as Stelis ornata photo fide; Orchid Digest Vol 80 #1 2016 as Stelis ornataphoto fide; Diversity of Pleurothallidinae in Guatemala: An Endangered Orchid Subtribe with High Economic and Horticultural Potentials Edgar Mo Mo, Cetzal, Basu and Vega 2017 as Stelis ornata photo fide;
--------------------------------------------------------------------------------------------------------------------------
-----------------------------------------------------------------------------------------------------------------------------