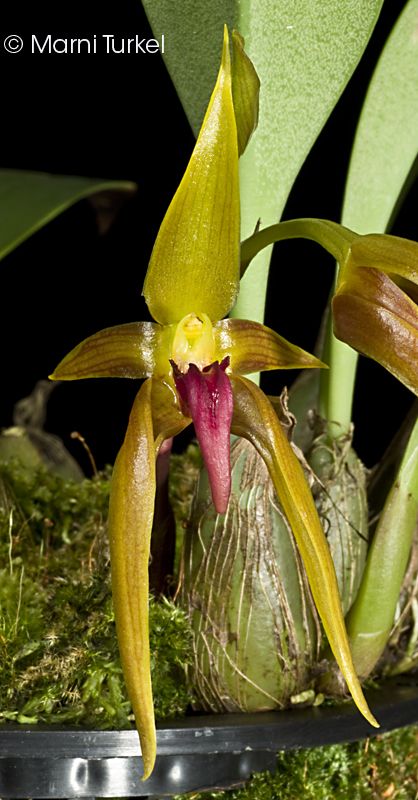 Bulbophyllum trigonosepalum Kraenzl. 1921 SECTION Lepidorhiza Schlechter 1911
Side View Photos by © Marni Turkel
Another Color form Photos courtesy of David Jubineau and His Bulbophyllum & Co. WebsiteCopyright ©




Common Name The Triangular Sepal Bulbophyllum
Flower Size 4" [10 cm]
Endemic to the Philippines at elevqations aropund 1000 meters as a small sized, warm to cool growing epiphyte ansd occasional lithophyte with ovate pseudobulbs carrying a single, apiczal, erect, oblong, leaf that blooms on a basal, to 4" [10 cm] long, successively 1 to 2, to 4 flowered inflorescence carrying unpleasantly fragrant flowers.
Said to be a synonym of B levanae and visually they are very similar. The difference is the large size of the flower and the smooth labellum of this species while B nymphopolitanum has small wart-like growths on the upper surfaces.
This species and the following are all related within the so called B nymphopolitanum complex and are similar in appearance, B mearnsii, B papulosum, B recurvilabre, B nymphopolitanum , B levanae and B basisetum.
References W3 Tropicos, Kew Monocot list , IPNI ; Orchid Genera in Thailand Vol VIII Bulbophyllum Thou. Seidenfaden 1992; AOS Bulletin Vol 69 No 12 2000 photo fide; Flora Malesiana Orchids of the Philippines Vol I Agoo, Shuiteman and de Vogel 2003; Malesian Orchid Journal Vol 7 2011 photo/drawing fide; Philippine Native Orchid Species Cootes 2011 photo fide;