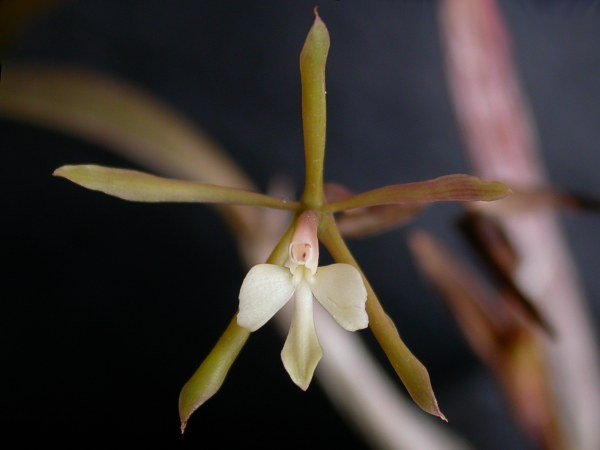 Epidendrum purpurascens H Focke 1851 GROUP Coilostylis
Photos by © Dalton Holland Baptista
Drawing by © Jimenez, Hágsater & E.Santiago and The AMO Herbario Website



to


to

Common Name The Club Shaped Epidendrum [refers to the pseudobulbs]
Flower Size 2 5/8" [6.5 cm]
Found in Costa Rica, French Guiana, Surinam, Guyana, Venezuela, Colombia and Brazil at elevations of 200 to 500 meters as a small sized, hot growing epiphyte with dark brown to olive green, often hard-shiny, medium compressed but not sharp edged pseudobulbs with a brown, very ragged sheath and carrying a single, apical, elliptical, stiff but not particularly thick leaf that is conduplicate into the apex of the pseudobulb. Flowering occurs through out the spring and summer on a terminal, erect, 10" [25 cm] long, few flowered racemose inflorescence arising on a newly forming pseudobulb and carrying fragrant, longlasting flowers.
This is a easy growing orchid in hot environments, potted, medium shade and even water and fertilizer year round will ensure a happy blooming plant.
This species is often confused with Epidendrum viviparum but if the pseudobulbs are cylindrical, not bulbous and the inflorescence has the tendency to keiki one above the other so it is possible to have several plants blooming at once then the orchid is Epidendrum viviparum.
"Epidendrum purpurascens belongs to the GROUP Coilostylis which is characterized by the sympodial, caespitose plants, the stems forming a fusiform, heteroblastic pseudobulb, with an apical, racemose, distichous inflorescence, the peduncle covered by large bracts, and flowers large, starshaped, with long, narrow sepals and petals. The species is recognized by the inflorescence produced from the immature, bifoliate stem, sepals .6 to 1" [15 to 25 mm] long, the deeply 3-lobed lip, the lateral lobes dolabriform with the margin unevenly erose and the midlobe spatulate, unguiculate, apiculate, widest near the apex. Epidendrum oerstedii Rchb.f. also flowers from the immature growth and has 1 to 2 apical leaves, but the flowers are larger, sepals 1.6 to 2.6" [40 to 65 mm] long, the lateral lobes obovate, and the midlobe widened at the middle. Epidendrum ciliare L. has the distal margin of the lateral lobes of the lip deeply fimbriate. Epidendrum volutum Lindl. is vegetatively similar, but has 2 to 3 leaves, an obscurely 3-lobed, suborbicular-cordiform, recurved lip, and the flowers are concolor, pale green. Epidendrum viviparum Lindl. has 2 to 3 leaves, a very long inflorescence 8 to 28" [20 to 70 cm] long, produces new plants from the apical nodes of the inflorescence which is produced from the mature pseudobulb, sepals are 1.2 to 1.8" [3 to 4.5 cm] long, the lateral lobes of the lip are reniform, the distal margin undulate, and has an acuminate midlobe." Hagsater etal 2008
Synonyms Auliza clavatum [Lindley] Brieger 1977; Coilostylis clavatum [Raf.] Withner & Harding 2004; *Didiothion clavatum Raf 1838; Epidendrum clavatum Lindley 1836; Epidendrum clavatum var purpurescens [Focke] Cogn. 1898; Epidendrum glumibracteum Rchb.f 1863; Epidendrum psilanthemum Loefgren 1917; Maxillaria glumibracteum (Rchb.f.) Hemsl. 1884
References W3 Tropicos, Kew Monocot list , IPNI ; Die Orchideen Schlechter 1915 as Epidendrum clavatum; Repert. Spec. Nov. Regni Veg. Beih. 6: 68 Schlechter 1919 aspiden drum clavatum; Repert. Spec. Nov. Regni Veg. Beih. 7: 245 Schlechter 1920 as Epidenrum clavatum; Repert. Sp. Nov. Regni. Veg. Beih. 19: 120. Costa Rica Schlechter 1923 as Epidendrum glumibracteatum; Repert. Sp. Nov. Regni. Veg. Beih. 19: 118. Costa Rica Schlechter 1923 as Epidendrum glumibracteum; Repert. Sp. Nov. Regni. Veg. Beih. 19: 212. Costa Rica Schlechter 1923 as Epidendrum glumibracteatum; The Genus Epidendrum Ames 1936 as Epidendrum purpurescens; Ceiba Vol 5 No 1 L O Williams 1956 as Epidendrum purpurescens Venezuelan Orchids Illustrated Vol 1 Dunsterville & Garay 1959 as Epidendrum purpurescens drawing fide; AOS Bulletin Vol 31 No 3 1962 as Epidendrum purpurescens photo fide; Encyclopedia of Cultivated Orchids Hawkes 1965 ; Flora de Venezuela Foldats Volumen XV Part 3 1970 as Epidendrum purpurescens drawing fide; Die Orchideen #1 1-4 tafel 1&2 Rudolph Schlechter 1971 as Epidendrum viviparum photo plant only; Orchidaceae Brasilense Band 1 Pabst & Dungs 1975 as E purpurescens drawing fide; Die Orchideen 3 Auflage Bd 1 Sonderabdruck aus Schlechter Lieferung 9 513 - 576 Brieger, Maatsch and Senghas 1977 as Auliza clavata photo fide; Die Orchideen 3 Auflage Bd 1 Sonderabdruck aus Schlechter Lieferung 9 513 - 576 Brieger, Maatsch and Senghas 1977 as Auliza clavatum var purpurescens; Orquideologia Vol 12 No 3/4 1977/8 photo as E purpurescens not/E glumibracteum; and E clavatum; Orchids of Venezuela, An Illustrated Field Guide Vol 1 Dunsterville & Garay 1979 as Epidendrum purpurascens drawing fide; The Orchids of Surinam Werkhoven 1986 as Epidendrum purpurescens photo fide; Native Colombian Orchdis Vol 2 COS 1991 as E viviparum photo fide; Inventaire Taxominique des Plantes de la Guyane Francaise Vol II Les Orchidaceaes Cremers and Hoff 1992 as Epidendrum purpurescens; Field Guide to the Orchids of Costa Rica and Panama Dressler 1993 as E glumibracteum; Icones Planetarum Tropicarum Plate 1524 Atwood & Mora 1993 as Epidendrum glumibracteum drawing fide; Orchids of Venezuela [An illustrated field guide] Vol. 1 Ramiro and Carnevali 2000 as Epidendrum purpurescens drawing fide; Flora of the Venezuelan Guayana Vol 7 Steyermark, Berry, Yatskievych and Holst 2003 as E purpurescens drawing fide; Manual de las Plantas de Costa Rica Vol 3 Hammel, Grayum, Herrera and Zamora 2003 as Epidendrum glumibracteum drawing fide; Australian Orchid Review Vol 69 No 4 2004; The Cattleyas and Their Relatives, the Debateable Epidendrum Withner and Harding 2004 as Coilostylis clavatumphoto fide; Vanishing Beauty, Native Costa Rican Orchids Vol 1 Pupulin 2005 as Epidendrum glumibracteatum photo ok; Icones Orchidacearum 11 Plate 1151 Hagsater 2008 see recognition section; Icones Orchidacearum Vol 11 Plate 1168 Hagsater & Sanchez 2008 drawing fide; Icones Orchidacearum 11 Plate 1198 Hagsater 2008 see recognition section;Orchids of Costa Rica Vol 3 Morales 2009 as Epidendrum glumibracteum photo fide; Las Orquideas del Peru Izerskyy & Bezverhov 2011 photo not; Orquideas de Roirama Luz & Franco 2012 as E purpurescens photo fide; Orchids of French Guiana Szlachetko, Veyret, etal 2012 as E purpurescens drawing/photo fide; Orquideas, Tesoro de Colombia Vol 2 Ortiz & Uribe 2017 as E purpurescens drawing/photo fide; Icones Orchidacearum 17(2) Plate 1772 Hagsater & Jimenez 2020 see recognition section
--------------------------------------------------------------------------------------------------------------------------