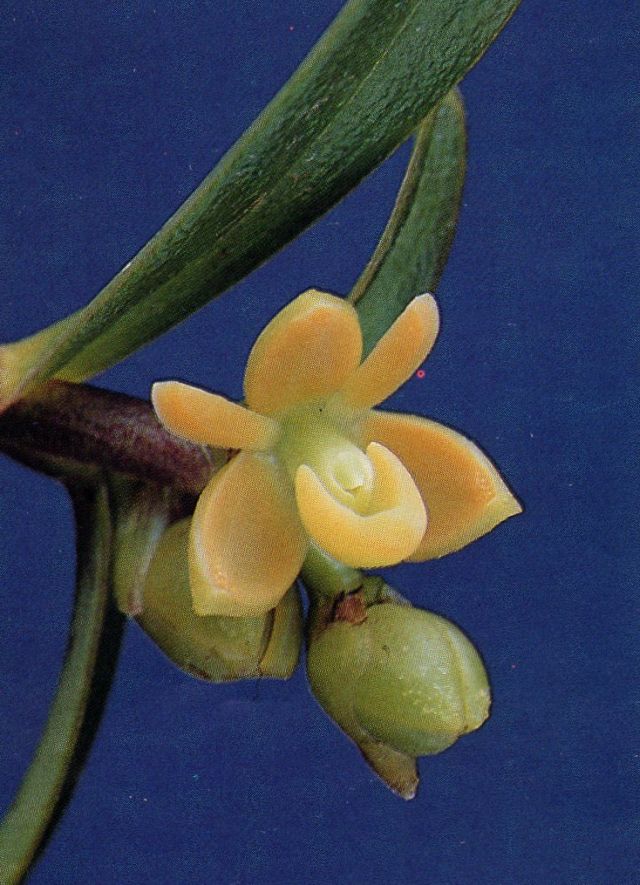 Epidendrum aquaticoides C.Schweinf. 1943 GROUP Aquaticum
Photo by © Colomborquideas
TYPE Drawing by © Schweinfurth


Common Name The E aquaticum-Like Epidendrum
Flower Size .75" [1.8 cm]
Found in Cusco department of Peru at elevations around 3600 meters as a medium to large sized, cold growing epiphyte with a stout, near basally branching, entirely enveloped by tubular, striate, imbricating, shortly leaf bearing sheaths carrying many, distichous, coriaceous, rigidly sub-erect, ovate-lanceolate to ovate-oblong, subacute, mucronate, basally clasping leaves that blooms on a terminal, arcuate-flexuous, paniculate, ascending, few to several flowered branches, rachis more or less fractiflex, 6.4" [16 cm] long overall, many flowered inflorescence with spreading, ovate, acuminate, concave, slightly shorter than the ovary floral bracts and carrying small, rather loose, fleshy, orange red flowers.
"Epidendrum aquaticoides belongs to the GROUP Aquaticum characterized by the monopodial, branching habit, the distichous, erect inflorescence, with fleshy flowers, and the disc of the lip and/or nectary often pilose. The species is recognized by the lanceolate leaves 1.4 to 6.8" x .4 to .72" [3.5 to 17 x 1 to 1.8 cm], rugose above, glaucous underside, inflorescences erect, distichous, usually racemose, sepals partly spreading, .36 to .48" [9 to 12 mm] long, petals linear and reflexed, lip 3-lobed, lateral lobes hemielliptic, mid-lobe triangular lanceolateand is recognized by the stouter stems, larger leaves and orange-red flowers than the next few comparitive species. Epidendrum harlingii has a caespitose habit, simple stems, short, lanceolate leaves, nutant branches of the inflorescence, widely cordiform lip, obliquely elliptic petals with entire lip and the greenish-brown flowers. Epidendrum papallactense has a larger habit overall, the flowers are brownish violet, and the petals have an erose margin. Epidendrum frutex Rchb.f. is much larger and has smaller flowers with a rhombic lip." Adapted from E aquaticoides Icones Plate 443 Hagsater etal 2001
CAUTION There is still confusion regarding GROUP Aquaticum and GROUP Frutex and how they interrelate. I await Hagsater's opinion.
Synonyms
References W3 Tropicos, Kew Monocot list , IPNI ; Orchids of Peru Vol 2 Schweinfurth 1959 drawing fide; Native Colombian Orchids Vol 5 COS 1994 photo fide; Icones Orchidacearum 4 Plate 443 Hagsater 2001 see recognition section; Icones Orchidacearum 4 Plate 468 Hagsater 2001 see recognition section; Machu Picchu Orchids Christenson 2003;
--------------------------------------------------------------------------------------------------------------------------