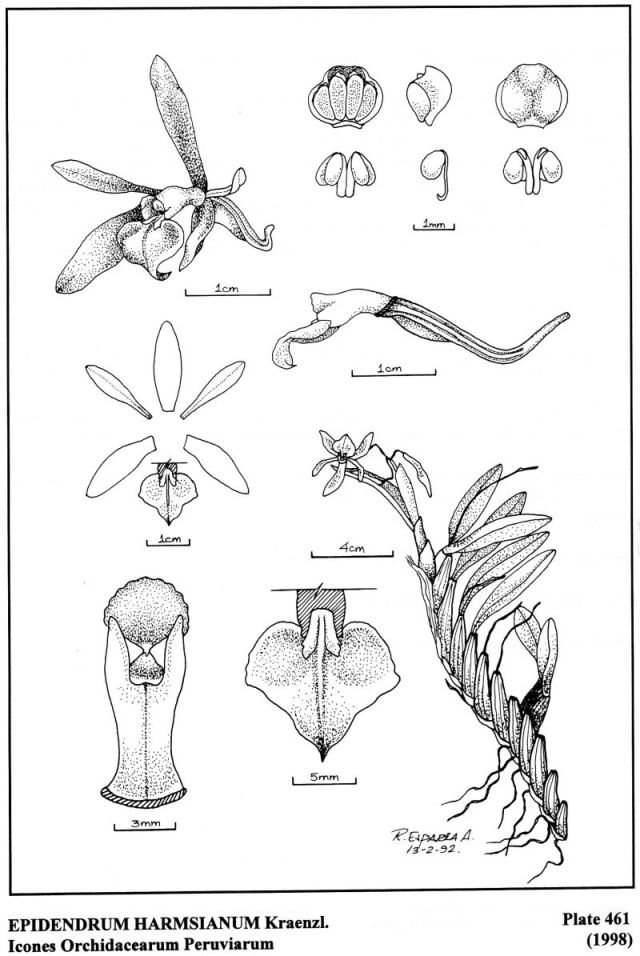 Epidendrum harmsianum Kraenzl. 1916
Drawing by © Bennett and Christenson



Common Name Harms' Epidendrum
Flower Size 1.2" [3 cm]
Found in Amazonas Peru in wet montane forests at elevations around 2200 to 2900 meters as a miniature sized, cold growing epiphyte with a chain of ovoid pseudobulbs carrying a single, apical [rarely 2] oblong elliptic, obtuse leaves that blooms in the summer on a terminal, arising through a conspicuous, ephemeral, complanate spathe, as a new pseudobulb arises, to 3.2" [8 cm] long, 1 to 2 flowered inflorecence with minute floral bracts and carrying non-resupinate, dark yellow flowers.
"E. harmsianum Kraenzl., of which we have only seen a photo (F! NY!) of the type which was destroyed in Berlin, but it can be distinguished by the cylindric, up t0 1.8" [4.5 cm] long pseudobulbs, with two apical leaves .64" [1.6 cm] wide and sepals .64" [1.6 cm] long. The only species in the genus which seems remotely similar is Epidendrum oellgaardii which can be readily identified by the prominent, pyriform pseudobulbs about .6 to 1" [15­ 25 mm] long, with 1 to 3 linear leaves near the apex, and the short raceme with 3 to 5 flowers. Both species are apparently endemic to the high páramos of the Andes." Adapted from E oellgaardii Icones 2 Plate 164 Hagsater etal 1993
Here is a list of the Peruvian Epidendrum with true pseudobulbs, E blepharistes, E compressibulbum, E harmsianum, E microcattleya, E oellgaardii, E parvilabre, E polystachyum, Epidendrum pseudopolystachum, E rupestre, E saxicola and E viviparum.
Synonyms
References W3 Tropicos, Kew Monocot list , IPNI ; Orchids of Peru Vol 2 Schweinfurth 1959; Icones Orchidacearum 2 Plate 164 Hagsater & Dodson 1993 see recognition section; Icones Orchidacearum Peruviarum Plate 461 Bennett & Christenson 1998 drawing fide; Icones Orchidacearum 17(1) Plate 1735 Hagsater & Jimenez 2019 see recognition setion; Icones Orchidacearum 17(1) Plate 1767 Hagsater & Jimenez 2019 see recognition section; Icones Orchidacearum 17(2) Plate 1773 Hagsater & Jimenez 2020 see recognition section; Icones Orchidacearum 17(1) Plate 1785 Hagsater & Jimenez 2019 see recognition section; Icones Orchidacearum 17(2) Plate 1796 Hagsater & Jimenez 2020 see recognition section;
--------------------------------------------------------------------------------------------------------------------------
--------------------------------------------------------------------------------