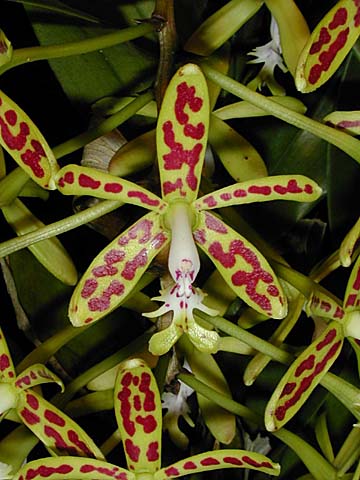 Epidendrum raniferum Lindley 1831 GROUP Cristatum SUBGROUP Cristatum
Photo by Andy's Orchids Copyright © 2002 All rights reserved.



SOMETIMES

Common Name The Frog Carrying Epidendrum [refers to the lip]
Flower Size 1" [2.5 cm]
Found from Mexico south to Costa Rica at elevations around 50 meters as a giant sized, hot growing epiphyte with rigid, erect, terete stems enveloped basally by several, tubular, scarious, acuminate sheaths and carrying many, lanceolate, elliptic, acute, basally clasping leaves that blooms in the fall but ocasionally in the spring on an erect, terminal, 6 3/4" [18 cm] long, many flowered, racemose inflorescence arising on a mature cane and is very similar to E cristatum but differs in the "midlobe of the lip which is bilobed, but not conspicuously lacerate [lacinate] but the lateral lobes are lacerate to various degrees". Quote by Hamer
CAUTION !!!!! Kew has this one as a synonym of E cristatum which it most likely is but I await Hagsater's treatment of this species, In his treatment of E cristatum he states that E raniferum is applicable only to Mexican found species but he gives no parameters. And then it follows that the varieties of E raniferum which occur in South America are synonyms of E cristatum.
"E. raniferum Lindl., belongs to the GROUP Cristatum SUBGROUP Cristatum and is recognized by the large caespitose plant, many-leaved, terete stems with lanceolate, acute leaves, the 2 to 2.8" [5 to 7 cm] long, conduplicate, imbricating sheaths, the apex rounded, with a short, compact, nutant raceme of pale green flowers, the sepals and petals marked with large spots of reddish-purple, the column and lip white lightly tinged with purple and the lip with a small, entire midlobe but this species has the lateral-lobes of the lip deeply lacerate and the midlobe bifid. Epidendrum tziscaoense as herbarium specimens, the flowers dry black, and has very short, compact racemes, the flowers with entire lobes of the lip. In shape the flowers are very similar to E. cnemidophorum which has yellow sepals and petals spotted with reddish-brown, and the column and lip are rose-magenta, the callus white, the midlobe of the lip is widened at the apex to short-bifid, blunt lobes, flowers are usually larger, sepals being .6 to .92" [15 to 23 mm] long. Epidendrum pfavii Rolfe has clear magenta flowers with the disc white, entire lateral lobes and a bifid midlobe, floral bracts are long-acuminate." Adapted from Epidendrum tziscaoense Plate 391 Hagsater 1999
Synonyms
References W3 Tropicos, Kew Monocot list , IPNI ; Bonplandia Rchb.f 1856; Symbolae Antillanae Vol VI Orchidaceae Urban 1909; Symbolae Antillanae Vol VI Orchidaceae Urban 1909 as Epidendrum raniferum var luteum; Die Orchideen Schlechter 1915; Repert. Spec. Nov. Regni Veg. Beih. 6: 72 Schlechter 1919; Atlas des Orchidees Cultivees Constantin 1920 drawing fide; Repert. Spec. Nov. Regni Veg. Beih. 10: 71 Bolivia Schlechter 1922; Repert. Sp. Nov. Regni. Veg. Beih. 19: 126. Costa Rica Schlechter 1923; The Genus Epidendrum Ames 1936; Iconografia de Orchidaceae Do Brasil Hoehne 1949 drawing fide; Icones Planetarum Tropicarum Plate 732 Hamer 1982 drawing ok; An Introdution to the Orchids of Mexico Wiard 1987 photo fide; Selbyana Vol 10 Orchids of Central America Hamer 1988 drawing fide; The Illustrated Encyclopedia of Orchids Pridgeon 1992 photo fide; Field Guide to the Orchids of Costa Rica and Panama Dressler 1993; Icones Orchidacearum Peruviarum Plate 044 Bennett & Christenson 1993 See Comments section; Manual de las Plantas de Costa Rica Vol 3 Hammel, Grayum, Herrera and Zamora 2003; Vanishing Beauty, Native Costa Rican Orchids Vol 1 Pupulin 2005 photo fide; Orchids of Mexico Hagsater, Soto, Salazar, Jimenez, Lopez and Dressler 2005 photo fide; Icones Orchidacearum 3 Plate 391 Hagsater & Sanchez 1999 see recognition section; Algunas Orquideas de Mexico Tomo 1 Suarez 2013 photo fide
--------------------------------------------------------------------------------------------------------------------------