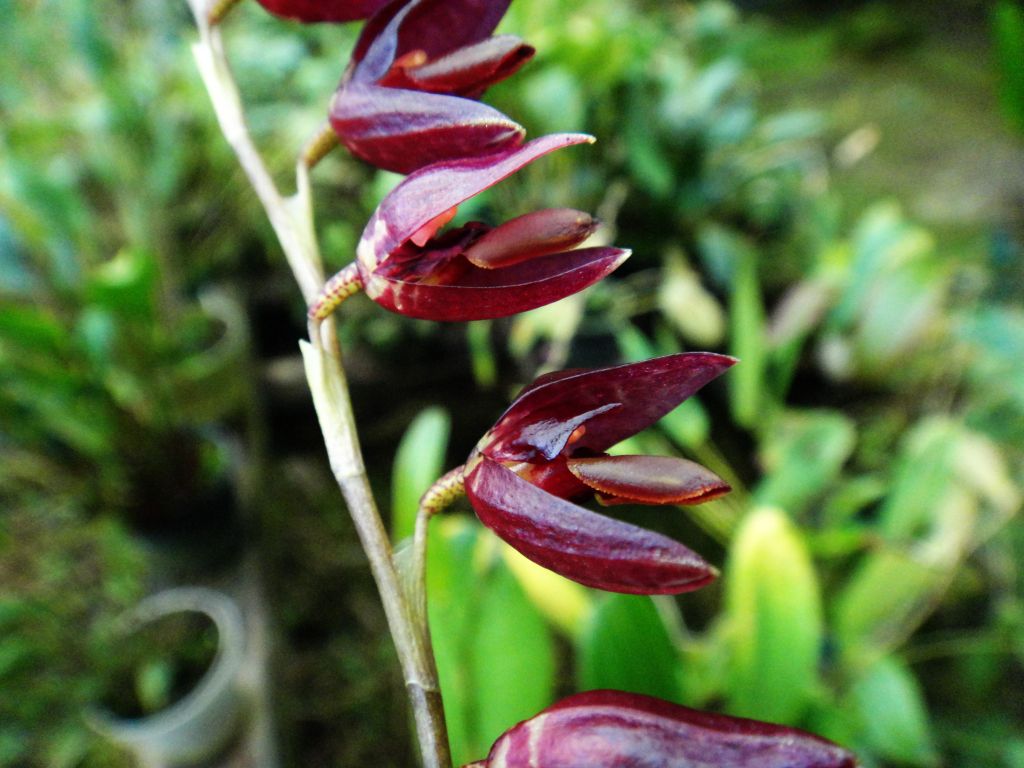 Pleurothallis restrepioides Lindl. 1837 SUBGENUS Elongatia SECTION Elongatae Lindl.
Another Flower Photos © by Jay Pfahl
Another Color Variation Photo courtesy of Andy's Orchids Copyright © 2002 All rights reserved.



to


Common Name The Restrepia-Like Pleurothallis
Flower Size more than 1 1/2" [3.7 cm]
This medium sized, cold to warm growing epiphyte or terrestrial on steep slopes is found in Colombia, Ecuador and Peru in wet montane forests at altitudes of 800 to 2900 meters with a short rhizome, and an elongate ramicaul enveloped basally by 4, elongate, tubular sheaths and carrying a single, erect, apical, elliptic, thick, gradually narrows below into the conduplicate petiolate base leaf and blooms on several at once, apical, racemose, suberect, to 12" [to 30 cm] long, few flowered inflorescence arising from a spathe at the base of the leaf and having many acuminate, loose bracts that blooms in the winter on several successively opening, foul smelling, pendant flowers that are held all to one side of the inflorescence and all held well above the leaves.
Synonyms Elongatia restrepioides (Lindl.) Luer 2004; Humboldtia fritillaria (Rchb.f.) Kuntze 1891; Humboltia fritillaria (Rchb. f.) Kuntze 1891; Humboltia reichenbachiana Kuntze 1891; Humboltia restrepiodes (Lindl.) Kuntze 1891; Humboltia roezlii (Rchb.f.) Kuntze 1891; Pleurothallis atroviolacea F. Lehm. & Kraenzl 1899; Pleurothallis fritillaria Rchb. f. 1855; Pleurothallis laurifolia Rchb.f 1854; Pleurothallis roezlii Rchb.f 1876; Stelis restrepioides (Lindl.) Pridgeon & M.W.Chase 2001
References W3 Tropicos, Kew Monocot list , IPNI ; Bonplandia Rchb.f 1855 as P frittilaria; AOS Bulletin Vol 30 No 5 1961 as P fritillaria drawing plant only; Fieldiana Biology, Vol 33, 1st Supple. to the Orchids of Peru Schweinfurth 1970 as P fritillaria; Icones Planetarum Tropicarum plate 254 Dodson 1980 drawing good; Icones Pleurothallidinarum Vol 3 Luer 1986; Icones Pleurothallidinarum Vol XI Systematics of Lepanthes subgenus Brachycladium and Pleurothallis subgen Aenigma, subgen Elongata, Subgen Kraenzlinnella Luer 1994 drawing fide; Native Colombian Orchids Vol 6 COS 1998 photos fide; Lindleyana Vol 16 No 4 2001 as Stelis restrepioides; Native Ecuadorian Orchids Vol 4 Dodson 2003 photo fide; Icones Pleurothallidinarum Vol XXVI Luer 2004 as Elongatia restrepioides; Mille et Une Mini Orchideees Roguenant 2009 as Stelis restrepioides photo fide; Orquideas del Peru Freuler 2010 as Stelis restrepioides photo good
--------------------------------------------------------------------------------------------------------------------------