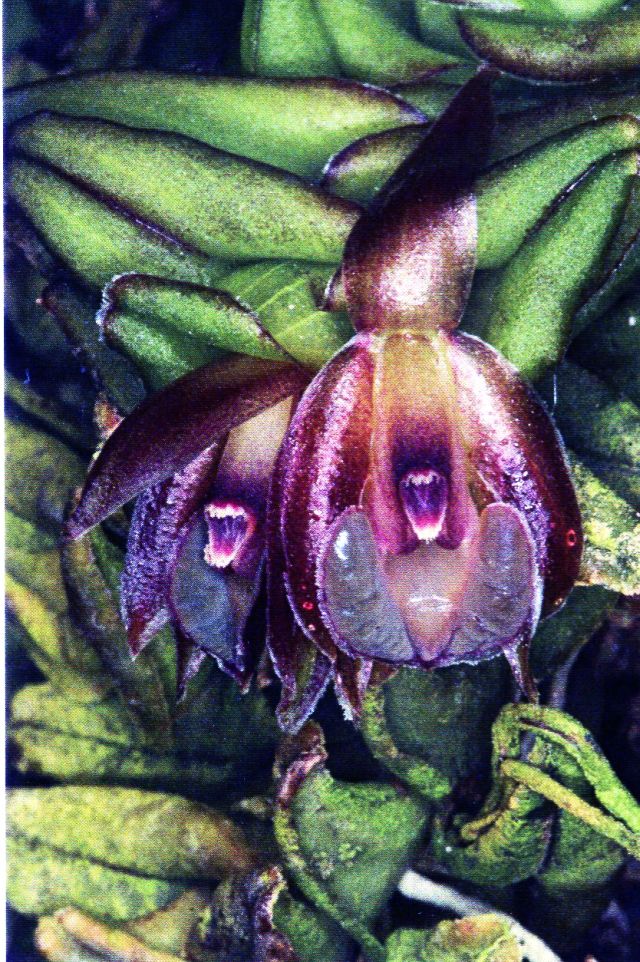 Epidendrum schlechterianum Ames 1924 GROUP Nanodes
Photo by © Lourens Grobler
Photos by © Danny Lentz, plant grown by the Atlanta Botanical Garden
Drawing by © Jimenez, Hágsater & E.Santiago and The AMO Herbario Website



to

Common Name Schlechter's Epidendrum [German Taxomonist early 1900's]
Flower Size 1 1/4" [2 to 3 cm]
Found only in Panama [See Below] in humid oak forests, drier, open areas and dense rainforests on trees and rocks at elevations of sealevel to 360 meters as a miniature sized, hot growing, epiphytic or occassional lithophytic species with clustered, leafy, branching stems enveloped by imbricate leaf bases carrying distichous, fleshy-coriaceous, ovate-lanceolate, acute, beaded surface, slightly serrated margin, sharp mucro apically leaves that blooms in the spring and summer on an apical, short, 2 flowered inflorescence.
Best grown on a cork mount and hung where it gets good air movement, bright light and frequent mistings.
This orchid is part of the GROUP Nanodes and as such has been reduced in range, now only from Panama, the other countries specimens have been reclassified into the following species, Epidendrum congestum Rolfe in Costa Rica, Epidendrum congestoides Ames & C.Schweinf. also in Costa Rica, Epidendrum oxynanodes from Colombia, Epidendrum schizoclinandrium from Peru, Epidendrum serruliferum in Costa Rica and Panama and Epidendrum uleinanodes from Brazil.
"Epidendrum schleclíterianum belongs to the GROUP Nanodes, characterized by the caespitose to creeping, sympodial plants, the short stems completely covered by the base of the non-articulate, fleshy, imbricating leaves; sessile, few-flowered inflorescence. The species is recognized by the two-flowered inflorescence with relatively long, greenish purple to olive green flowers tinged with red, the oblong-lanceolate, .68 to .8" [17 to 20 mm] long sepals, cordate-reniform, minutely apiculate lip, and the column .4 to .56" [10 to 14 mm] long with the anther elongate, subacute and apically fímbriate. Epidendrum congestum Rolfe has 2 to 3, much smaller flowers with the sepals .28 to .4" [7 to 10 mm] long) and the lip cordiform, with the apex acute, and the anther widely ovoid and apically truncate, the margin something dentate. Epidendrum congestoides Ames & C.Schweinf. also has a two-flowered Inflorescence, but the flowers are smaller, greenish to reddish green, sepals ovate to ovate-lanceolate, .32 to .52" [8 to 13 mm] long, the lip reniform-semiorbicular, somewhat embracing the short column .16 to .264" [4.5 to 6.6 mm] long in natural position, and the anther is short, and the margin fimbriate." Hagsater etal 2007
Synonyms Epidendrum Schltr.1922; Epidendrum discolor (Lindl.) Benth. 1896; Epidendrum gonzalez-tamayoi Hágsater 1993; Epidendrum neodiscolor Hágsater 1993; Nanodes brevicaule (Schltr.) Brieger 1976; Nanodes discolor Lindl. 1832; Nanodes schlechterianum (Ames) Brieger 1960
References W3 Tropicos, Kew Monocot list , IPNI ; Symbolae Antillanae Vol VI Orchidaceae Urban 1909 as Epidendrum discolor; Repert. Sp. Nov. Regni. Veg. Beih. 17: 30. Panama Schlechter 1922 as E brevicaulae; The Genus Epidendrum Ames 1936; The Orchids of Panama L.O. Williams & P Allen 1946 drawing good; Ceiba Vol 5 No 1 L O Williams 1956; AOS Bulletin Vol 27 No 6 1958; Orchids of Peru Vol 2 Fieldiana Schweinfurth 1959 as E brevicaule; Native Orchids of Trinidad Schultes 1960; Venezuelan Orchids Illustrated Vol 2 Dunsterville & Garay 1961 not = E congestoides; Encyclopedia of Cultivated Orchids Hawkes 1965; Flora de Venezuela Foldats Volumen XV Part 3 1970 drawing hmm; Die Orchideen 3 Auflage Bd 1 Sonderabdruck aus Schlechter Lieferung 9 513 - 576 Brieger, Maatsch and Senghas 1977 as Nanodes discolor; Orquideologia Vol 12 No 1 1977; Orchids of Venezuela; An Illustrated Field Guide Vol 2 Dunsterville & Garay 1979 as Nanodes discolor drawing fide; AOS Bulletin Vol 51 No 12 1982 photo fide; Icones Planetarum Tropicarum plate 882 Dodson 1983 as Nanodes discolor drawing fide; ORQUIDEA (Méx.) 9(2): 1984 photo fide; Flora Novo-Galaciana Vol 16 McVaugh 1985; The Orchids of Surinam Werkhoven 1986 as Nanodes discolor photo fide; An Introdution to the Orchids of Mexico Wiard 1987 as Nanodes discolor photo fide; Orchids Travel By Air A Pictoral Safari Mulder, Mulder-Roelfsema and Schuiteman 1990 photo fide; A Guide to Orchids of the World Hodgson, Paine and Anderson 1991 photo fide; The Manual Of Cultivated Orchid Species Bechtel, Cribb & Launert 1992 photo fide; Orquídea (Méx.) 13(1-2): 215-218.Hagsater 1993 as Epidendrum neodiscolor; Field Guide to the Orchids of Costa Rica and Panama Dressler 1993; Icones Orchidacearum 2 Plate 136 Hagsater 1993 as E gonzales-tamayoisee recognition section; Native Colombian Orchids Vol 5 COS 1994 photo fide; Icones Orchidacearum 3 Plate 363 Hagsater 1999 see recognition section; Icones Orchidacearum 3 Plate 363 Hagsater 1999 see recognition section as E neodiscolor; Icones Orchidacearum 3 Plate 363 Hagsater 1999 see recognition section as E gonzales-tamayoii; Icones Orchidacearum 3 The Genus Epidendrum Part 2 Plate 392 Hagsater 1999 see recognition section; Icones Orchidacearum 3 Plate 392 Hagsater 1999 as E neodiscolor see recognition section; Icones Orchidacearum 5&6 Plate 653 Hagsater 2001 see recognition section; Rudolf Schlechter Die Orchideen Band 1C lieferung 42 - 43 pg 2626 - 2762 Brieger 2001 as Nanodes discolor; Rudolf Schlechter Die Orchideen Band 1C lieferung 42 - 43 pg 2626 - 2762 Brieger 2001 as Nanodes schlechterianum; Icones Orchidacearum 7 Plate 784 Hagsater 2004 see recognition section; Orquideas de la Serrania del Baudo Misas Urreta 2005 drawing/photo = E oxynanodes; Icones Orchidacearum 9 Plate 920 Hagsater 2007 see recognition section; Icones Orchidacearum 9 Plate 920 Hagsater 2007 as E neodiscolor see recognition section; Icones Orchidacearum 9 Plate 921 Hagsater 2007 see recognition section; Icones Orchidacearum 9 Plate 921 Hagsater 2007 as E neodiscolor see recognition section; Icones Orchidacearum 9 Plate 982 Hagsater 2007 drawing fide; Icones Orchidacearum 9 Plate 986 Hagsater 2007 see recognition section; Icones Orchidacearum 9 Plate 986 Hagsater 2007 as E neodiscolor see recognition section; Orchids of Costa Rica Vol 3 Morales 2009 photo fide; Mille et Une Mini Orchideees Roguenant 2009 photo fide; Orquideas de Roirama Luz & Franco 2012 photo fide; Miniature Orchids, A Compendium Parsons and Gerritson 2013 photo fide; Orchids of the Darien Gap Kolanowska 2014 drawing/photo fide; Orquideas, Tesoro de Colombia Vol 2 Ortiz & Uribe 2017 photo fide; Icones Orchidacearum 17(1) Plate 1751 Hagsater & Jimenez 2019 see recognition section; Icones Orchidacearum 18(2) Plate 1879 Hagsater & Jimenez 2021 see recognition section
--------------------------------------------------------------------------------------------------------------------------